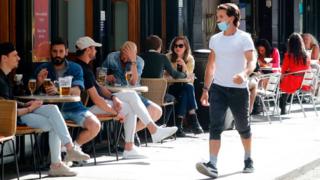 The number of people in England testing positive for coronavirus may be levelling off, according to a household survey by the Office for National Statistics.
After a low in cases at the end of June, it estimated infections had been rising slightly in July.
Restrictions have been introduced in recent weeks in a number of different areas to control outbreaks.
The figures are based on throat and nose swabs from nearly 120,000 people.
They are tested whether they have symptoms or not.
Individuals in hospitals and care homes are not included in the ONS survey, which has been estimating cases in private households since May.
Figures for Wales have been included for the first time – and during the week of 27 July to 2 August, 1,400 people are estimated to have had Covid-19.
In England, the figure for the same week is 28,300.
Katherine Kent, who leads the analysis of the ONS Infection Survey, said: "Although we are still reporting an increase in England since the lowest recorded level of infection in late June, this week's estimates suggest this trend may be levelling off when compared with the data we published last week."
The ONS is expanding its survey to include Northern Ireland and is also hoping to collect figures in Scotland.
Local lockdowns
However, there is uncertainty around these figures because they are based on modelling a sample of the population and a very small number of positive tests – just 53 people from 53 households over six weeks.
And the ONS says there is no clear evidence from its survey to say whether infection rates differ by region in England.
Local restrictions are currently in place in 18 areas in Greater Manchester, West Yorkshire and East Lancashire, plus Leicester.
Preston, in Lancashire, has now also been added to that list.
This means there are stricter rules on socialising for people living in these areas and for businesses, in order to control the spread of the virus.
Leicester was the first place in the UK to have a local lockdown introduced after a rise in Covid-19 cases. The city's pubs and restaurants are now preparing for their first weekend open in months.
The latest R number for the UK was also published on Friday. It is now estimated to be between 0.8 and 1.0, suggesting coronavirus cases in the UK are either stable or shrinking slightly.
However SAGE, the government's scientific advisors, says it does "not have confidence that R is currently below 1 in England".
The number relates to how many people each infected person is passing the virus on to. Anything above 1.0 means cases are starting to grow again.
Highs and lows
Prof Keith Neal, emeritus professor of the epidemiology of infectious diseases, at the University of Nottingham, said estimating R was becoming "increasingly difficult" because of the small number of cases around.
"A local cluster in one part of a region such as Leicester in the East Midlands can give a value over 1 overall for the region but the figure would be much lower in the rest of the region.
"These local clusters need to be identified and managed with locally targeted measures," he said.
"For many parts of the country, infection rates continue to fall but caution and avoidance of high risk mixing needs to continue."
Prof Neal added: "The best way the public can help control Covid-19 is to get tested if they have symptoms, and if positive, isolate and identify their contacts."
https://www.bbc.co.uk/news/health-53695477